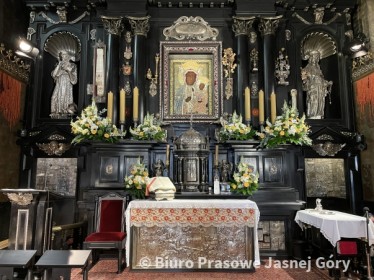 First Saturdays of the Month
See, my daughter, my Heart encircled by thorns with which ungrateful men pierce it at every moment by their blasphemies and ingratitude. Do you, at least, strive to console me. Tell them that I promise to assist at the hour of death with the graces necessary for salvation all those who, in order to make reparation to me, on the First Saturday of five successive months, go to Confession, receive Holy Communion, say five decades of the Rosary, and keep me company for a quarter of an hour, meditating on the … mysteries of the Rosary.


Our Lady to Sr. Lucia dos Santos, one of the Fatima visionaries, on Dec. 10, 1925




What is the Five First Saturdays devotion?
The Five First Saturdays devotion is one of the principal points of the Fatima message. It centers on the urgent need for mankind to offer reparation and expiate for the many injuries that the Immaculate Heart of Mary suffers from the hands of both impious and indifferent men.
To make the reparation truly pleasing to the Immaculate Heart of Mary, and to benefit from the great promise attached to the First Saturdays Devotion, it is important to carefully carry out all of the following requirements that Our Lady asked for on every first Saturday for five consecutive months:
1) go to confession,
2) receive Holy Communion (in the state of grace),
3) recite five decades of the Rosary,
4) keep Our Lady company for fifteen minutes while meditating on the mysteries of the Rosary,
5) do all of these with the intention of making reparation to the Immaculate Heart of Mary.
On the 15 February 1926, during a vision, after presenting Jesus with problems that this requirement posed for some people, Sister Lucia obtained the following concessions from Our Lord:
confession may be done on days other than the First Saturdays so long as one receives Our Lord in the Holy Communion on the First Saturday in a state of grace and has the intention of making reparation to the Immaculate Heart of Mary,

even if one forgets to make the intention, it may be done on the next confession, taking advantage of the first occasion to go to confession.

if the Holy Communion cannot be received on the First Saturday for a just reason, it can be received on the following Sunday,
sister Lucia also clarified that it is not necessary to meditate on ALL mysteries of the Rosary on each First Saturdays. One or several suffice.
Why five First Saturdays?
Jesus explained this to Sr. Lucia on May 29-30, 1930, saying:
Daughter, the motive is simple: There are five kinds of offenses and blasphemies spoken against the Immaculate Heart of Mary.

First: blasphemies against the Immaculate Conception

Second: against her Virginity

Third: against the Divine Maternity, refusing, at the same time, to receive her as the Mother of mankind

Fourth: those who seek publicly to implant, in the hearts of children, indifference, disrespect, and even hate for this Immaculate Mother

Fifth: those who revile her directly in her sacred images

Here, dear daughter, is the motive that led the Immaculate Heart of Mary to petition Me to ask for this small act of reparation. And, out of regard for her, to move My mercy to pardon those souls who have had the misfortune to offend her. As for you, seek endlessly, with your prayers and sacrifices, to move Me to mercy in regard to these poor souls.
Our Lady promised that She would "assist at the hour of death, with the graces necessary for salvation" the souls who make the first five Saturdays. However, it is important that the desire to console Our Lady's Immaculate Heart by making reparation and growing in holiness is the main motivation for the practice. To underline this fact, Our Lord told Sr Lucia:
"It is true, my daughter, that many souls begin the First Saturdays, but few finish them, and those who do complete them do so in order to receive the graces that are promised thereby. It would please me more if they did Five with fervour and with the intention of making reparation to the Heart of your heavenly Mother, than if they did Fifteen, in a tepid and indifferent manner…" (15th February 1926)