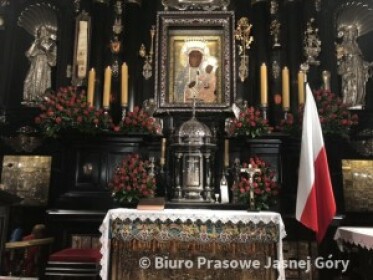 3 May - the Solemnity of Mary Queen of Poland
The feast of the Blessed Virgin Mary Queen of Poland on May 3, expresses the nation's faith in the special protection of God that Poles have experienced and are experiencing through Mary Mother of God. The holiday refers to the defense of Jasna Góra against the Swedes in 1655 and the vows of King Jan Kazimierz, in which he entrusted the kingdom to the protection of the Mother of God. The special connection of the cult of Mary, Queen of the Polish Crown, with Jasna Góra took place on September 8, 1717, when the Miraculous Image of Our Lady was coronated. The Feast of the Queen of Poland was officially approved in 1920. It has been celebrated since 1923, and after the liturgical reform in 1969, it was elevated to the rank of a solemnity.
"Mary is the Polish charism and it is on Her to build the future of the homeland," said Bl. Primate Wyszyński. On May 3 this year Jasna Góra will hold a nationwide thanksgiving for the life and service of this great shepherd of the Church and Pole. The program includes a monodrama, concert of Marian songs, and Akathist in honor of the Blessed Virgin Mary. The most important event will be the solemn Mass at the Outer Altar at 11.00 a.m. It will be celebrated by Polish bishops headed by Archbishop Stanisław Gądecki, president of the Episcopate, who will also deliver a sermon.
This year May 3 marks the 57th anniversary of the submission, by the Polish Episcopate under the leadership of the Primate, Card. Stefan Wyszyński, of the "Millennial Act of Surrendering Poland into the Maternal Slavery of Mary Mother of the Church for the Freedom of the Church of Christ". This entrustment from 1966 was a historic event compared by the Holy See to the greatest in the history of our nation - to Mieszko's baptism, which gave rise to Christianity in Poland.
The Millennium Act is solemnly renewed at Jasna Góra on every May 3. The original text of Act is placed in a special cassette on the right side of the Miraculous Image. It is a sign calling each of us to join in the Act personally.
May 3 is also celebrated in Poland as Constitution Day. For this reason the Polish Army Representative Company will traditionally participate in the evening prayer - the so called Jasna Góra Appeal, which brings the whole Nation to the Throne of its Queen.
Photo Archive of the Jasna Góra Press Office