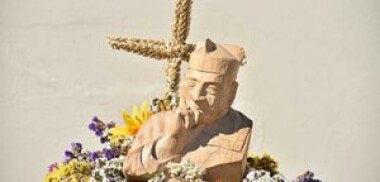 September at Jasna Góra
This is the day that the Lord has made; let us rejoice and be glad in it.

September is a month abounding in varius feasts and liturgical feasts and memorials of saints of the Catholic Church. Among others are:
8 September – Feast of the Nativity of Blessed Virgin Mary – one of the oldest indulgences at Jasna Góra.
12 September – Memorial of the Name of Mary
14 September – Feast of the Exaltation of the Holy Cross – the second indulgance at Jasna Góra
15 September – Memorial of Our Lady of Sorrows
21 September – Feast of St. Matthew, Apostle
23 September – Memorial of St. Pius of Pitrelcina
29 September – Feast of Michael, Gabriel and Raphael, Archangels.
This month then let us cherish and express our heartfelt gratiude for God's Providence and the wisdom of the Holy Church that so richly grant us the protection and care of the Triumphant Church.
September aldo has many institutional pilgrimages arriving at the Shrine. The greatest one: Polish Farmers' Pilgrimage holds the celebrations on the first weekend of the month when the National Harvest Thanksgiving takes place.
It is also a month when we commemorate the beginning of the World War II, September 1, 1945 being the first day of the war in which over 6 million Poles died. Eternal rest grant all the victims of the war, Oh Lord.

Almighty God, our most tender Father, who kindled the fire of your love in the hearts of the saints, help our hearts receive the riches of your grace which you pour upon us every day.
Photo archive: Jasna Góra Press Office