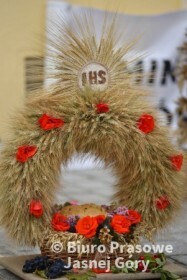 National Harvest Thanksgiving

The Lord is my shepherd; I have everything I need

On the first weekend of September Jasna Góra holds the annual National Harvest Thanksgiving Festival gathering farmers from different parts of the country with their crops and specially prepared harvest wreaths to be blessed during Holy Mass at 11.00 (Outer Altar).
This is an opportunity to express our gratitude in the first place to God Our Lord for His providence and blessing bestowed upon us as well as to farmers for their work, respect for tradition and adherence to faith.

The organizer of the agricultural holiday is the National Farmers' Pastoral Office.
All are welcome.
Photo archive of the Press Office of Jasna Góra