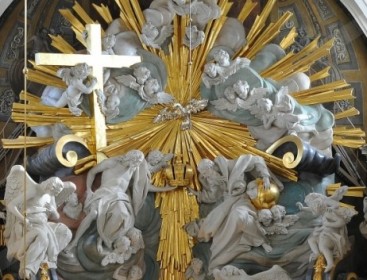 The Solemnity of the Pentecost
Veni, Creator Spiritus!
Come, Holy Spirit, Creator blest!
The forthcoming Sunday (28 May 2023) in the Catholic Church commemorates the Descent of the Holy Spirit upon the Apostles fifty days after the Resurrection of Jesus Christs. The event marks the "birth" of the one, true, holy, universal and apostolic Church founded and built by Our Lord Jesus Christ.
Just as Jesus' disciples 2000 years ago, we today also expect the Holy Spirit Creator to come upon us anew and make us - the present followers of Jesus Christ - one, true, holy, universal and apostolic Church. We need the Holy Spirit to live, we need Him to love, we need Him to create healthy, life-giving communites by first and foremost establishing, each and every one of us, in the Holy Spirit, an intimate relationship with God. To come to this end, we need to fervently call to the Holy Spirit to come, to fill our hearts, to enkindle in them the fire of His love and to renew them, and through them - the face of the earth.
At Jasna Góra the celebrations will start in the Basilica on the night preceding the Pentecost Sunday at 8.00 pm. We will gather to pray together with members of Pentecost communities from the Archdiocese.
Come, Holy Ghost, Creator, come
from thy bright heav'nly throne;
come take possession of our souls,
and make them all thine own...
Photo archive of the Press Office of Jasna