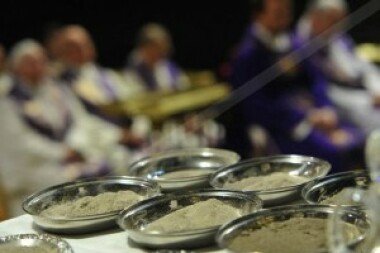 Lent at Jasna Góra
"Whoever wishes to be My follower must deny his very self, take up the cross each day, and follow in My steps." (Luke 9,23)
Ash Wednesday - February 22, 2023 - marks the beginning of Lent.
This 40-day season of fasting and penance inclines the followers of Christ to reflect on their life in relation to the gift of salvation won for us by Jesus on the Cross. We want to get united with Our Lord in the mystery of His Passion by reflection, life of penance and self-denial to reach into the depths of our souls and bring out the gift of love God laid in us in the act of creation, love which makes us in the image of God.
May this year's special time of Lent, by the power of Jesus' loving sacrifice, stir the fire of love in our hearts that will conquer all evil in and around us. May the intercession of Our Lady Queen of Poland help us in all the adversities and struggles to be faced.

Lent liturgical celebrations at Jasna Góra include:
- the devotion of the Stations of the Cross on Ash Wednesday at 3:00 PM in the Chapel of the Blessed Virgin Mary.
- the Stations of the Cross celebrated each Friday of Lent at 3:00 PM in the Chapel of the Miraculous Image, and at 8:00 PM in the Chapel of St. Joseph.
- Sunday traditional Lamentations (Gorzkie Żale) sung in the Basilica at 4:15 PM. This devotion will include sermons on the Passion of Our Lord.
You watch over heaven and earth, Lord Jesus.
Your death brought light to the dead; Your resurrection gave joy to the saints;
Your ascension made the angels rejoice. Your power exceeds all power.
Lead us to life eternal, and watch over us with your love.
Photo archive of the Press Office of Jasna