News » July - the Month of the Most Precious Blood of Jesus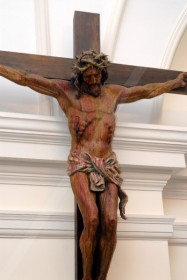 From the Book of Revelation by St. John the Evangelist, chapter 7:
After this I looked, and there before me was a great multitude that no one could count, from every nation, tribe, people and language, standing before the throne and before the Lamb. They were wearing white robes and were holding palm branches in their hands (...)


Then one of the elders asked me, "These in white robes—who are they, and where did they come from?"
I answered, "Sir, you know."
And he said, "These are they who have come out of the great tribulation; they have washed their robes and made them white in
the Blood of the Lamb.
Therefore,
"they are before the throne of God
    and serve Him day and night in His temple;
and He who sits on the throne
    will shelter them with His presence.
'Never again will they hunger;
    never again will they thirst.
The sun will not beat down on them,'
    nor any scorching heat.
                                                         For the Lamb at the center of the throne
                                                           will be their shepherd;
                                                        'He will lead them to springs of living water.'
                                                           'And God will wipe away every tear from their eyes.'"
Oh, the Most Pecious Blood of Jesus, our hope, save us from evil, save us for Heaven, wash our souls, wash them of sin, bring us to God, shelter in His presence, in all tribulation be our strength and lead us victorious through every oppression.
Let us embrace with our prayer this month especially all those who suffer persecution for their faith in Jesus Christ, members of the Catholic Church experiencing difficult time of trial, so that they all persevere and endure to the end and when all is done rejoice in life everlasting in the Kingdom of the Lamb.
"O Blood and water that gushed forth from the Heart of Jesus, as a fount of mercy for us, I trust in You".
Photo archive of the Press Office of Jasna
back »