News » The Epitaph of the 2010 Smoleńsk Tragedy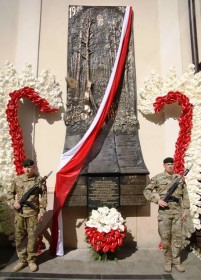 Located opposite the entrance to the Chapel of Our Lady, a grand plaque bearing names of all the 96 victims of the most tragic air crash in thePolish history, which took place in Smolensk (Russia) on 10 April 2010,was blessed on 03 May 2012, the day when Poland celebrates the Solemnity of the Blessed Virgin Mary Queen of Poland. The celebrations brought together the families of the victims of the Smolensk tragedy as well as many distinguished guests from Poland and abroad. The plaque was solemnly unveiled by the children of two of the victims of the Smoleńsk crash: Aleksander and Stanisław Skrzypek, and Kinga and Miłosz Gosiewscy.
St. Roch Bastion holds an exhibition dedicated to the victims of the Smolensk air crash. It includes ex-votoes offered by the victims' families.

In your mercy grant them rest, o Lord!
Photo W. Sowula
back »