News » Forty Hours Devotion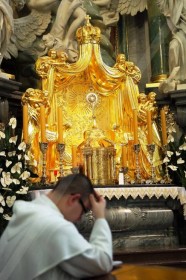 February 14-16 February 2021 (Sunday to Tuesday), we will celebrate Forty Hours Devotion of the Blessed Sacrament.
Traditionally, through the adoration of the Blessed Sacrament we prepare ourselves to the fast approaching season of Lent.
The Blessed Sacrament will be exposed in the Basilica of Jasna Góra throughout the day (from 5 AM to 9 PM); the detailed program can be found at the website of the Press Office of Jasna Gora.
Photo archive of the Press Office of Jasna
back »